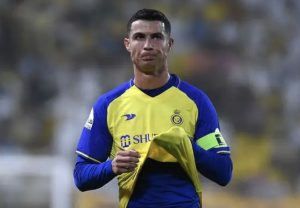 Following Lionel Messi's transfer to Inter Miami, Cristiano Ronaldo argued that the Saudi Pro League was superior to Major League Soccer.
This summer, a number of well-known athletes have moved to Saudi Arabia after Ronaldo made the switch to the Middle East, including Steven Gerrard, N'Golo Kante, Roberto Firmino, and Karim Benzema, a former captain of Liverpool.
Messi, though, made a different decision when he signed for Inter Miami on Sunday night. Earlier this summer, the Argentine World Cup winner decided to leave Paris Saint-Germain on a free transfer.
Ronaldo firmly ruled out a return to European football after Al-Nassr were defeated 5-0 by Celta Vigo on Monday night in a preseason friendly and believes numerous leagues have declined in quality.
When questioned about a prospective comeback to a European team, Ronaldo told Portuguese reporters, "No, that door is absolutely closed.
"I'm 38 and a half years old already, and it's not worth it."
In my opinion, Europe has lost a lot of talent in football. The Premier League is the only league in my opinion that has a lot of talent and performs at a higher level than all the others.
"The Spanish league is not of that high calibre." The Portuguese league is a respectable league but not the best league in the world. I believe the German league has also suffered greatly. There's no way I'll ever play in Europe again. In Saudi Arabia, I want to perform.
In response to a question regarding a potential move to the MLS, Ronaldo said, "I think the Saudi league is much better than the United States." Al-Nassr is my team.
The former Man United and Juventus great also thought he had played a role in the departure of numerous other European stars for Saudi Arabia this year.