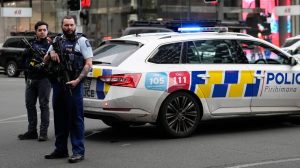 Two people have died after a gunman opened fire in the New Zealand city of Auckland hours before the start of the Women's World Cup.
New Zealand Police confirmed that two people were killed and multiple others injured when a gunman opened fire shortly after 7am on Thursday at a building site in the business district of Auckland. The shooter was also pronounced dead at the scene.
The city's ambulance service confirmed that three people were seriously injured, while three others sustained minor injuries.
Tournament co-hosts New Zealand are due to get the Women's World Cup underway in the city at 7pm local time on Thursday at Eden Park.
The incident occurred at around 7.22am local time (8.22pm on Wednesday UK time), close to the FIFA fan zone around the Queen Street and Quay Street area of Auckland's business district. The shooter stormed a building site that was full of construction workers. Police say the offender moved through the building while discharging his firearm, and was found dead a short time later.
The force has assured the public that the situation has been contained and is an isolated incident. They said the incident is not a national security risk.
Auckland mayor Wayne Brown told TV network TVNZ: "This dreadful situation couldn't have come at a worse time when the world has its eyes on us. It's dreadful, particularly since we have never had an incident like this before.
"I understand the shooter is dead but no one is absolutely sure about that. It's very scary."
The USWNT camp is based in Auckland and a team spokesperson confirmed that all members of the party are safe and accounted for.
The incident comes hours before New Zealand kick off the tournament in the city against Norway at Eden Park, about a 20-minute train ride from the scene of the shooting.